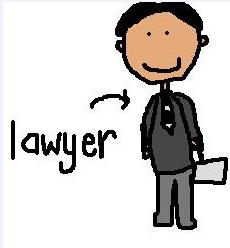 let's say, if you are a lawyer
Say YES. I will present for you in court.
Say YES. I will present for you in court.
Say YES. I will present for you in court.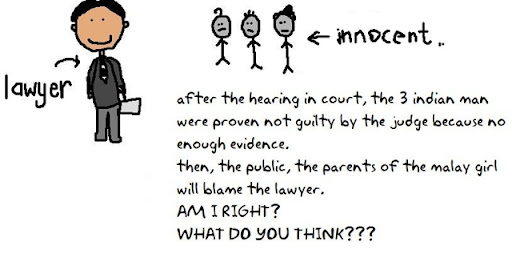 Why should you blame the lawyer. He has nothing to do in deciding the case.
WHAT ABOUT THIS?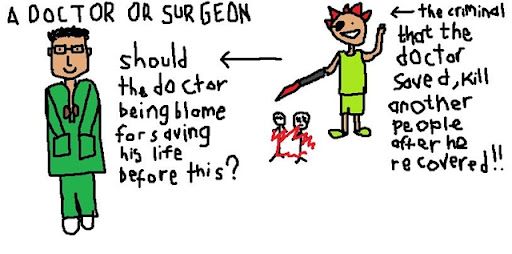 Biasa dengar kan anggapan orang, kalau dalam sesuatu kes di mahkamah, lawyer yang bawak kes untuk tertuduh/defendan dianggap jahat. sebabnya dia cuba membela orang yang salah. kira macam nak cakap lawyer tu bersubahat sebab bela orang jahat. lepas tu mak bapak lawyer tu pun akan marah dia sebab buat sesuatu yang salah. selalunya memang macam tulah.
sebenarnya tanggapan tu salah. cuba tengok contoh yang aku dah lukiskan tu. antara doktor dan lawyer. kalau lawyer di-blame sebab bawak kes untuk pesalah, doktor pun patut di-blame sebab selamatkan pembunuh.
dan seorang lawyer yang bagus takkan bias dalam pilih client dia. contohnya bila kes 3 orang india tu, dia taknak bawak tapi kes pakcik dia, dia nak. tak boleh macam tu.
Rasa-rasa macam faham tak apa yang aku cuba nak sampaikan?
Kalau korang punya persepsi terhadap lawyer sebelum ni adalah seperti apa yang aku cakap, sila ubah persepsi tu sebabnya tanggapan tu salah.
p/s: aku cuma nk buktikan pd bekas HEP MRSM aku yg berkata
"klu jd lawyer, dah sebelah kaki ke neraka!"
itu persepsi org yg berfikiran sempit sbnrnye...
-Nik Imana-